Posted on Dec 23rd 2005 by trekprops.de.
One of the most important materials in the hobby of prop building is casting resin. It is used to make copies of a master model using a silicone rubber mold. Most prop kits on the market are made from some kind of resin.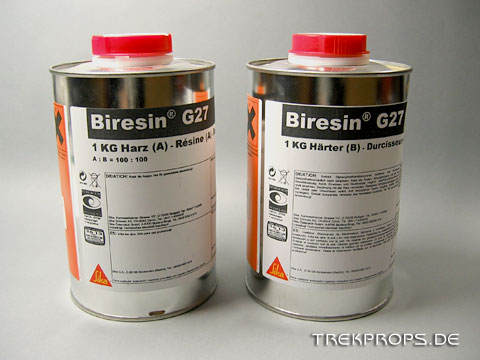 Casting resin is available in many variants of different chemical and mechanical properties. I use a two component polyurethane quick casting resin without fillers with a working life of 2 minutes and a demolding time of less than 30 minutes. The resin is mixed with the hardener using a mixing ratio of 1:1 and cures to an opaque beige color. It has a very low viscosity and is suited for casting of highly detailed surface structures as well as complex parts.
Remember to wear protective gear such as gloves and a respiratory mask at all times when handling this chemical!

Modulor direct link: PUR fast cast resin G27