Posted on Feb 3rd 2005 by trekprops.de.
Also known as "Boomerang Phaser" or "Phaserang".
I got this Typ II Phaser as seen in "Star Trek VIII: First Contact " from a fellow prop collector. The weapon is painted with the authentic automotive color Plasti-kote 7173 and the grip has been rubberized. Furthermore, there is the correct blue holo-tape attached to the underside of the prefire chamber (see last picture).
Up to the point when I got this piece, I had never held a resin prop in my hands before. Needless to say that I wasn't too much into props at that time. Anyway, since I had heard that resin is a kind of plastic, I thought that this Phaser would be rather light and toy-like in handling. The exact opposite was the case when I unpacked it. The high weight of the prop contributed to the authenticity of it and the hard surface also didn't let me think of plastic in any way. Together with the beautiful and smooth finish, these facts both surprised and excited me – and the excitement continues to this day.
Some research resulted in the assumption that this prop replica was probably made by "Federation Surplus".
The "FC-version" of this prop is marked by the red trigger button.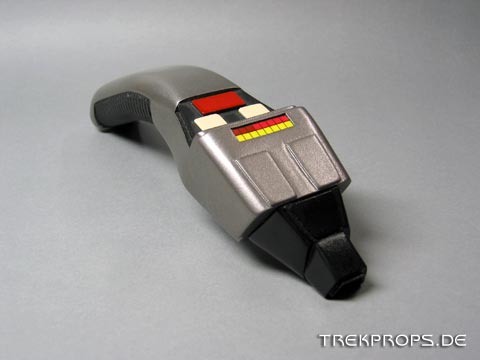 The power bar is also different from the TV-version.
The underside of the handle is rubberized for a better grip.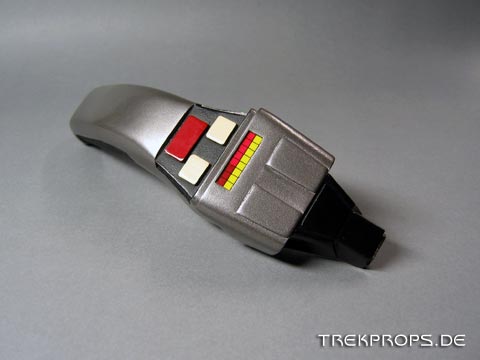 Off-white buttons for beam intensity and width.
Note the piece of blue holo-tape on the bottom side of the prefire chamber.
Post a Comment
Want to see your picture next to your comment? Go get a Gravatar!