Posted on Apr 28th 2005 by trekprops.de.

I got this small prop in kit form from a fellow ASAP member. When I first started this project, I thought that such a small object could not be a lot of trouble during buildup. The exact opposite was the case. It took a lot longer than I anticipated to get this one done. I also had to do a lot more research than I had planned.
The Type I personal phaser was used in TNG whenever a seemingly peaceful situation didn't require larger weapons or when a potentially dangerous away mission needed discrete protection, for example diplomatic negotiations. During undercover operations such a small weapon can be useful as well.
Gene Roddenberry, the "inventor" of Star Trek, always considered the "cricket" phaser as a symbol of superior 24th century technology. It illustrated for him that great energy and with it great power doesn't have to be contained in a large and terrifying housing. Roddenberry also gave this phaser the nickname "cricket".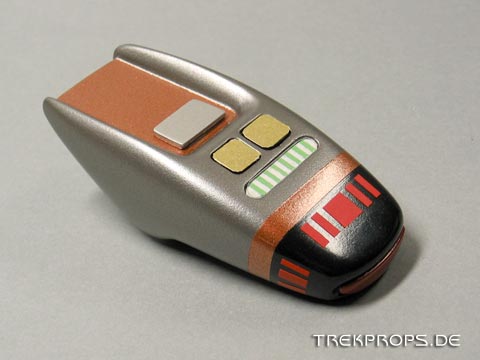 There are two variants of this prop: During the first season of TNG, the phaser was painted completely silver, had dark particle vents and a dark blue thumb pad. From the second season on, the case was designed more colorful and interesting. This variant is what can be seen here.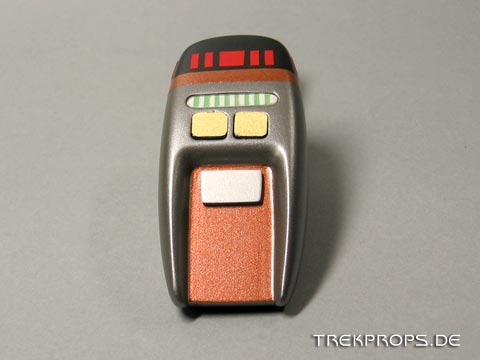 Unfortunately, the use of the Type I phaser was ceased soon because of technical difficulties. Since this is such a small weapon, it was nearly not visible on low-res TV screens when fired. Because of this, the phaser beams sometimes seemed to come out of the actors hands, which – in the opinion of the studio executives – would confuse the viewer. Therefore it was suggested to use Type II phasers only from this time on.
A silver trigger, golden buttons and bronze details.
The power meter has 8 settings.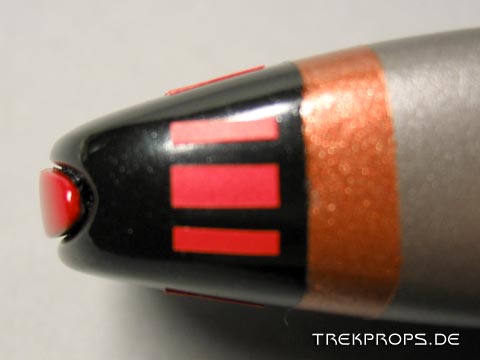 I implemented the vents of the prefire chamber with red vinyl tape.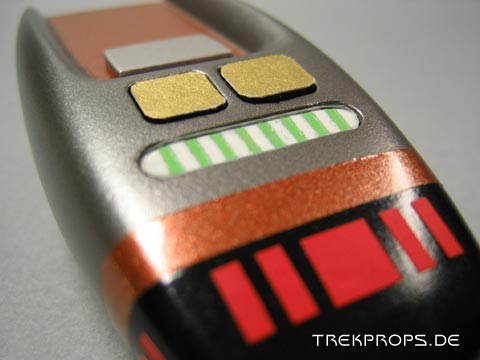 A detail shot of the controls.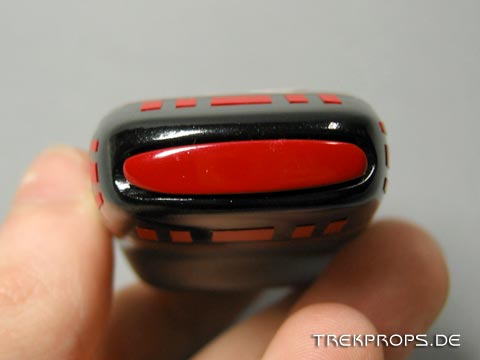 I didn't just paint the muzzle red but actually inserted a dedicated muzzle piece.
The last time this type of phaser was used was in the fourth episode of Voyager's fifth season: "In the Flesh".
Post a Comment
Want to see your picture next to your comment? Go get a Gravatar!